Well, to start out, heres part of the yarn for my grandmother's afghan. It's about $100 worth of decent yarn, from a lys here in Jacksonville.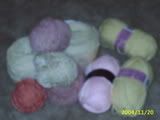 I only used pink and white yarn for this blanket. What's here was supplemented with filler from Micheals. I used blending, so that it fades from dark to light. I used three to four strands held together, depending on the thickness of the yarn, and size 35 circulars. It is in a fan and feather lace pattern. It measured about three feet wide and six feet long. With blocking and time, it should stretch. No matter what she'll appreciate it.
Part of the reason for doing this is because every year, she makes quilts for every one of her 10 grandkids. When I gave her the blanket, she said "No one ever makes anything for me". So I think next year, we'll do something where everyone in the family makes something for her.
Anyways, when I gave it to her, my grandma actually cried. She thought I had forgotten about it, since I just moved. Usually, when I'm making something for someone, they know it, becuase I keep them updated and ask them a million questions throughout the process. But, I guess I hadn't mentioned it to my grandma.
Pictures of the afghan are coming soon.